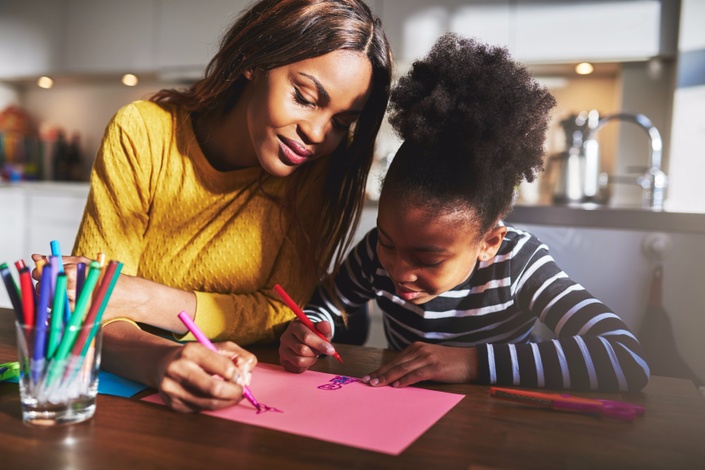 The Ultimate Guide to Homeschooling Black Children
Giving your children a solid education in the comfort of your own home
Enroll in Course
According to the Manhattan Instittute, 45% of black students (as compared to 22% of whites) drop out of high school before they are set to graduate. Of those African Americans who earn a diploma, many of them are functionally illiterate. In fact, African American high school graduates perform on a level that is roughly four years below that of whites.
While we know these disparities exist and that our children are being failed by these systems, the question is: Do we do something about it, or wait for the system to destroy our kids?
Millions of parents are now turning to homeschooling as a way to help your child engage in what Dr Boyce Watkins refers to as "the extrication of black children." By educating your children in your own home, you are better able to monitor their progress, spend quality time with them, and ensure that they are ahead of the curve and not behind it.
The "Homeschooling Guide" will help:

- If you have struggled to find the information, guidance, support and encouragement you need in order to homeschool your children.
- If you are not sure if homeschooling is right for you and your family.
- If you need a step by step breakdown of what to do, where to go and how to find resources.
- If you want to connect with homeschooling families and education experts who've overcome common struggles and can share ideas.

THE HOMESCHOOLING GUIDE WILL ANSWER THESE VERY IMPORTANT QUESTIONS:

1. Are my children going to get a good education if they are homeschooled?
This guide covers what parents need to do even before they decide to homeschool as well as the common reasons why most parents choose to homeschool.

2. Will my children get enough socialization or will they be socially awkward?
You will get information on how to make sure your kids can participate in different programs and activities that encourage and build social development. (For example, in most states, homeschooled children can take part in public school sports teams and use school resources)
3. Will homeschooling be affordable?
You will learn how best to manage and plan for homeschooling costs and get tips on where to find inexpensive teaching materials such as textbooks and boxed curricula.

4. Where can I find information about state laws and regulations? The law you should follow is that of the state in which you are physically present. We can help you find out which laws you should apply
5. What kind of record keeping is required?
You will get information about what is required for record keeping and what you need to submit during the school year and at the end of the school year.

6. How do I get started? What do I need to?
You will learn homeschooling basics, and how to make sure you cover the right subject matter, all in compliance with the state in which you reside.

Your Instructor
Nomalanga is Mrs. Botswana Earth 2012. She was honored to place as the second runner up at the Mrs. Earth international pageant in August 2012. She is also the first ever Mrs. Botswana World and held the title from 2010 to 2011.

Nomalanga describes herself as a home-schooling blogger, wife and mother who is also a social commentator and business coach. A prolific blogger, Nomalanga is a Sr. Editor and contributor at Your Black World, the hottest black news site on the Internet as well as the founder of the blogs healthyblackwoman.com, successfulblackwoman.com and theblackhomeschool.com.

Nomalanga serves as the Principal and founder of NOMA UNlimited where she offers business building and development programs, primarily for women who are married and have children. She previously served as an Assistant Professor at a local College where she designed and instructed a Learning Community Seminar course she specifically created for women of color. During her tenure, she also taught Leadership and Management courses in the Hospitality Department of the Professional Studies Division at the college.

The Botswana native spent her college years in Providence, RI where she served as a "Big Sister" in the Big Brothers and Big Sisters of RI organization and also received her graduate degree in Teaching. In addition, she has two undergraduate degrees and her undergraduate studies include a concentration in Psychology.

Her accomplishments as a businesswoman earned Nomalanga a nomination for the Network Journal's 2010 Twenty Five Influential Black Women in Business Award. Nomalanga is also a self proclaimed "compulsive writer" and has published hundreds of blogs and articles on Leadership, Personal Development, Diversity and issues pertaining to Black women leading healthy lives and having healthy relationships.
Frequently Asked Questions
When does the course start and finish?
There is no end point to the course if you choose to allow it to continue. I will be here to give you advice and support for all of the years that your children are in your home school.
How long do I have access to the course?
You have access to the course for as long as you're a member.
What if I am unhappy with the course?
We would never want you to be unhappy! If you are unsatisfied with your purchase, contact us in the first 30 days and we will give you a full refund. We offer a 30-day, no questions asked, 100% refund policy. For all refund requests or cancellations, please send a message to
[email protected]
. Your query will be processed within 24 - 48 hours
How do I unsubscribe?
Unsubscribing is very easy. Just login at TheBlackBusinessSchool.com. Go to the upper right hand side of the screen and hit the word "admin." After that, go to the bottom left where your name is located and hit the up arrow. Then, click on "Your profile." From there, you can hit "Manage Subscriptions," which will then allow you to unsubscribe from the course.
What if I can't get access to the content?
There are some times when your browser may give you a blank page, making it difficult for you to see the content. Whenever you encounter a blank white page, refresh your web browser to force the page to load. If that doesn't work, the next best thing is to clear your cache and cookies then click 'start' again. You should be all set after either of these steps.