Go from confused entrepreneur visionary to real life business owner in just 4-weeks
Are you ready to leave the plantation and start your own business?
Are you tired of getting up each day and working to build someone else's dream?
Are you ready to finally start that business you've been talking about?

I already know the answer is "YES!"
I also know what's holding you back — It's one (if not all) of the reasons below:
• You don't know if you have what it takes to start a business.
• You don't know how to start a business.
• You're not sure what type of business to start.
• You don't know where to get the money to start a business.
• You don't know what the time commitment will be to start a business.
What if I told you I could help you answer all those questions and create a blueprint for your business?
Introducing the Mogul Blueprint
FINALLY a class that not only tells you what to do, but also HOW TO DO IT, so you can make enough money to quit your day job and pursue your entrepreneurial dreams.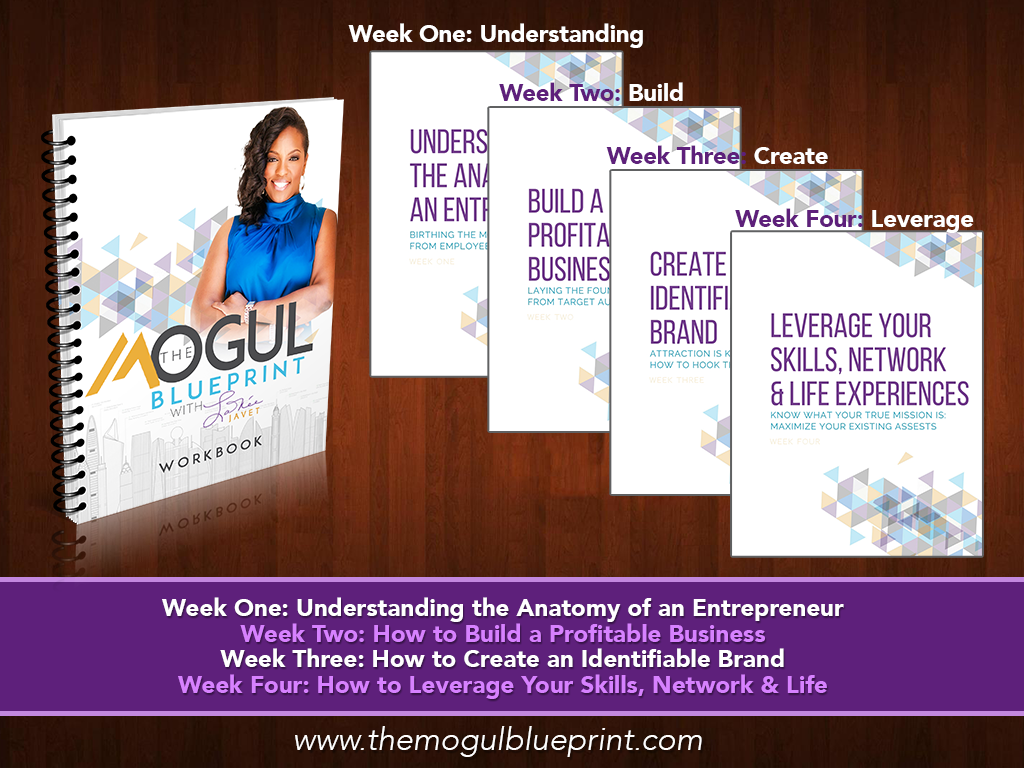 It took me three years of struggling as a startup, to figure out what I can now show you in four weeks.
In this class we cover:
- How to shift your mindset toward a lifestyle of entrepreneurship and ultimately success.
- How to define your target audience so that you're not shooting blindly in the dark hoping to catch an attentive ear.
- Crafting a solid infrastructure, that will automate your business, helping you gain revenue in your sleep!
- Where to find the funding to support your business' developmental stage.
You'll receive a
35-page, customizable Blueprint
for starting your business. This download is your action plan to launch your business. Each week you'll have an assignment to help you build a brand, create a product, and leverage your expertise to become an entrepreneur. If you've talked about starting your own business, creating wealth, or leaving the plantation, but weren't sure: how to do it, how much it was going to cost, if you would do it right or if you had what it takes...this is the class for you. I'm offering you all the information and tools you'll need to start the business you've been dreaming about.
All aspiring entrepreneurs tired of thinking about becoming a business owner, stuck at a dead end job, or living below your means that are ready to take the first step towards owning your future...ENROLL NOW!

But here's the thing:
You have to show up and be prepared to do the work, if you plan on seeing results. If you're just looking to take a course, listen to a speaker, and not follow through, this program is not for you. There will be accountability.
CLICK THE "ENROLL IN COURSE" IF YOU'RE READY TO GET YOUR BUSINESS LIFE TOGETHER